TAMIR demonstration period – the mock-ups
The TAMIR- platform is now opened to show the mock-ups for end-user testing. On the platform we demonstrate the developed tools for the impact forecasts of flash floods in the Pan-European scale and multi-hazard nowcasts for convective storms in a regional level. The products are currently constructed with seven pre-selected test cases, six for the Pan-European products and one for the regional multi-hazard product. We would like to invite you to explore them and would be very happy hear your feedback through the provided survey on the platform.
How to get an access to the TAMIR - platform
The platform can be accessed at the following link: http://www.crahi.upc.edu/tamir-platform. Due to data licensing conditions and security restrictions, we need to ask you to register to create individual username and password at the following link (http://crahi.upc.edu/tamir-platform-register/)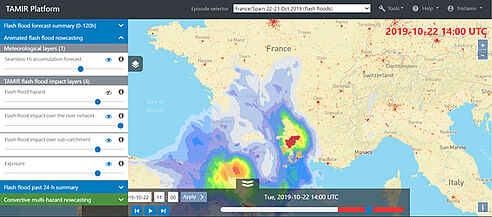 TAMIR demonstration period – the new test cases
We have already received several interesting events suggested as new test cases from the end-users. We welcome more if you have some in mind.
Please contact tamir(at)fmi.fi.
We will process these cases in the coming Autumn. Data availability may limit the cases we can adopt, preferably the test cases would be from year 2018 onwards and located in OPERA domain. In case we receive an extensive number of requests, we may also need to limit the number of cases we can construct.
TAMIR newsletter on end-user involvement
End-user involvement. TAMIR demonstration phase will take place during the second part of 2021, in two different phases of end-user engagement... [Read more, pdf]